Nuke has some powerful ways to define how nodes are labeled in the DAG. And they make for some fun ways to augment your gizmos. By default, Nuke ships with a script called autolabel.py which takes care of labeling all the nodes in various ways:
the node's name (obviously)
a channel combo like "green blue" in case the node doesn't simply process RGBA.
the value of a node's "output" knob, if such a knob exists (try adding one as a user knob to see this magic label)
the current file name of a read node
the merge mode of a merge node (sic!)
the text of a node's label knob
and probably much more…
You can, however, write your own autolabel function for either a specific node or a whole class of nodes. The downside is that you lose all of the default autolabels if you don't reimplement them yourself.
autolabel knob:
Every tool has a hidden knob called autolabel that can hold a Python expression. Its return value is used to label the node. So let's see how this works. Create a node (mine's called "Blur3" from now on) and open the scripting console panel. Type:
autoLabel 

=

 

"abc"


nuke.

toNode

(

"Blur3"

)

[

'autolabel'

]

.

setValue

(

autoLabel

)

Of course this fails. But you see clearly that Nuke tries to execute your autolabel string as a Python expression. So let's start with a basic example:
autoLabel 

=

 

"nuke.thisNode().name()"


nuke.

toNode

(

"Blur3"

)

[

'autolabel'

]

.

setValue

(

autoLabel

)
This works. Note how the command nuke.thisNode() is used to refer to the node whose label is currently being processed. Just using the node's name as a label is the most basic thing to do. As the presence of an autolabel string will override Nuke's default behavior, you won't get anything else that a blur node might usually have (channel info and custom label value). Also note how this label is only applied to "Blur3". Any other blur nodes will continue to use Nuke's default autolabel.py behavior. But these autolabel expressions can get more useful, complex and powerful:
Here I'm changing the label based on the value of another knob. Python doesn't have the C-like syntax "expression ? yes : no" which would be really handy in this case. But it has something similar which I wasn't aware of before a fellow TD showed this to me:
(

"some string"

 

if

 expression 

else

 

"another string"

)
This will help us build even more powerful autolabel expressions. Note how all of this is still one single string so I'm using single quotes inside it and I need to escape all newline characters as \\n. A single backslash would cause a line break in the code itself instead of the string. What's still missing is the label knob which Nuke adds to all nodes by default. We need to implement this ourselves and it's a bit tricky because you need to add a line break for this only if there actually is a label.
autoLabel 

=

 "nuke.thisNode().name() + (' big!' if nuke.thisNode()['size'].value()>100 else ' small') + ('

\\

n'+nuke.thisNode()

\[

'label'].value() if nuke.thisNode()['label'].value() else '')"
nuke.

toNode

(

"Blur3"

)

[

'autolabel'

]

.

setValue

(

autoLabel

)
The further you go the more complex all of this gets. So why would you use the autolabel knob when Nuke has autolabel event handlers as well?
the knob affects a single tool, not a whole class of nodes
that string will get copy&pasted around with the node, autolabel event handlers remain separate from your nuke scripts (the latter has its advantages of course when it comes to maintainability and preventing your pipeline's code from leaving your company)
the knob can be used with groups and node presets. All groups share the same class so it's not possible to single one of them out.
autolabel event handlers:
To finish this tutorial, here's the autolabel event handler that corresponds to the knob monstrosity above. It needs to be placed into your menu.py (or any python modules that are imported). You can have multiple autolabel handlers so you don't need to cover all node classes in one function. Nuke calls all of them in a row and uses the first one that doesn't return None.
def

 BlurLabel

(

)

:
    n 

=

 nuke.

thisNode

(

)


    

if

 n.

Class

(

)

 

==

 

"Blur"

:
        autoLabel 

=

 n.

name

(

)

 + 

(

' big!'

 

if

 n

[

'size'

]

.

value

(

)

>

100

 

else

 

' small'

)


        

if

 n

[

'label'

]

.

value

(

)

:
            autoLabel 

=

 autoLabel + '

\n

' + n

[

'label'

]

.

value

(

)


        

return

 autoLabel
 
nuke.

addAutolabel

(

BlurLabel

)
Nice video about air traffic in Europe on a single day.
Some more info about this can be found on the PR blog of the NATS, the air traffic control company behind this…
Check out the weird flight pattern in the top left corner around 1:10 🙂
Fusion 7 is close to a release. It will go beyond Nuke in some aspects (great stereo tools bundled for free and an impressive-looking scripting console/debugger), finally catch up in other parts (a modular GUI and UV unwrapping in 3D space) and contain lots of fixes and overdue improvements.
Fusion? You know, the compositing software next to Nuke?
Fusion has always beaten Nuke in terms of speed and versatility in a broadcast / commercials area. But eyeon software's weird and cryptic marketing, dated website, their unwillingness to communicate a roadmap combined with the fact that Fusion hasn't been updated for close to two years has pissed off their user base and made most of the industry switch to the software that initially only high end VFX shops were using. There they can profit from a large freelancer base, lots of talented R&D people, 3rd party training and a company that is upfront about future developments and schedules.
And if you're doing high end VFX you're just served well with Nuke, no matter how much faster Fusion would be. The motion graphics crowd on the other hand is still served well by AfterEffects. By now, Fusion's at the bottom of a downward spiral of "less users – less interest of 3rd parties – less tutorials and plugins – less users" that I think is hard to recover from. Eyeon's latest efforts to tap into the Avid community seem to bear fruits though but the GUI and feature needs of those folks clearly clash with regular compositing artists.
But here's eyeon software, back from the dead so to speak, with at least a changelog and some videos about what we can expect in Fusion 7. I'll talk more about the release once I've put it to the test myself.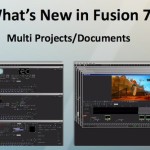 For now, the "What's new" PDF instills the feeling that eyeon's marketing is still bonkers. They start up with the tiniest change. The cool stuff is at the end of the PDF. And it actually touts the standard multi-document (MDI) style of Windows applications as a new feature. Seriously folks, Fusion has had that interface for years and nobody loves it because a crash on one comp pulls down the whole application and nobody has the screen space to lay out two comps side-by-side anyways. This reeks of "grasping at straws" to inflate the feature list which wouldn't be necessary at all. Fusion 7 promises new 3D tools, UV unwrapping, (screen space) Ambient Occlusion and many GUI improvements and it will include Dimension by default – eyeon's stereoscopic and optical flow toolset that gives Occula a run for its money. It also seems as if I can update some of my Fuses and macros with new API features.
Stay tuned for a thorough review of different aspects of the Fusion update.
Fonotune, a stylish indie movie I'm involved in, has hit Kickstarter! An homage to Japanese cinema, cool actors, design, and electronic music – this movie's got it all. Or rather… it WILL have it all 🙂
It's almost halfway funded already. Go check out the teaser! And feel free to help us finish the movie if the clip has managed to captivate you.
The project page has all you need to know. Check out the people that director Fabian Hübner has brought on board. The designer of some of the props is just wicked!
Recently, our studio's file server started failing randomly. We lost Nuke scripts and we also lost the autosave files that Nuke creates in the same directory. Of course there are ways to deal with that on lower levels but I needed a quick fix that I could deploy without dealing with infrastructure and file system journals. Fortunately, Nuke provided the means to do that. I managed to redirect autosaves to each artist's local drive without even accessing their machines. Here's how:
Nuke has a bunch of callbacks that you can use. And it also has some that relate to autosaves:
AutoSaveFilter (called whenever Nuke wants to write to an autosave file)
AutoSaveRestoreFilter (called whenever it wants to check or read an autosave during startup)
AutoSaveDeleteFilter (called before an autosave gets deleted).
All of these functions receive the file name of the autosave that Nuke would use if you hadn't installed any event handlers. The expected return value is a modified file name that it will actually use.
The whole idea is simple: diverting autosaves whose paths match a certain pattern (I only want to catch those that would have been saved on our file server) to a clone of the server's folder structure on the artist's local drive. We're running Linux so I chose ~/Documents/NukeAutosaves as a location.
As an extra failsafe against data loss I made a copy of an autosave right before Nuke deletes it. This makes sure that each artist gets an automatic copy his .nk script on his local drive. This script may not be the same as the .nk file that is saved on the server, but since it is identical to the last autosave, it's definitely a helpful backup.
Here's the Python code that you need to paste into your init.py or include it as a separate module (which I recommend):
import

 

os

,

 

re

,

 

shutil




import

 nuke
 


def

 onAutoSave

(

filename

)

:
  

"""Build local autosave file name for saving."""


  localfilename 

=

 

os

.

path

.

expanduser

(

re

.

sub

(

r

"/PATH/TO/SERVER/"

,

 r

"~/Documents/NukeAutosave/"

,

 filename

,

 

re

.

IGNORECASE

)

)


  localdir 

=

 

os

.

path

.

dirname

(

localfilename

)


  

if

 

not

 

os

.

path

.

isdir

(

localdir

)

:
    

os

.

makedirs

(

localdir

)


  

return

 localfilename
 


def

 onAutoSaveRestore

(

filename

)

:
  

"""Build local autosave file name for restoration."""


  

return

 

os

.

path

.

expanduser

(

re

.

sub

(

r

"/PATH/TO/SERVER/"

,

 r

"~/Documents/NukeAutosave/"

,

 filename

,

 

re

.

IGNORECASE

)

)


 


def

 onAutoSaveDelete

(

filename

)

:
  

"""Create a backup copy before deleting an autosave."""


  

# only delete untiled autosave


  

if

 nuke.

root

(

)

.

name

(

)

 

==

 

'Root'

:
    

return

 filename
  

# build local autosave file name


  localfilename 

=

 

os

.

path

.

expanduser

(

re

.

sub

(

r

"/PATH/TO/SERVER/"

,

 r

"~/Documents/NukeAutosave/"

,

 filename

,

 

re

.

IGNORECASE

)

)


  

# before Nuke deletes it, make a backup copy (without the .autosave extension)


  

try

:
    

if

 

os

.

path

.

isfile

(

localfilename

)

:
      

shutil

.

copy2

(

localfilename

,

 

os

.

path

.

splitext

(

localfilename

)

[

0

]

)


  

except

 

Exception

 

as

 e:
    

print

 

"Exception thrown in onAutoSaveDelete(): %s"

 % e
  

return

 localfilename
 


def

 init

(

)

:
  nuke.

addAutoSaveFilter

(

 onAutoSave 

)


  nuke.

addAutoSaveRestoreFilter

(

 onAutoSaveRestore 

)


  nuke.

addAutoSaveDeleteFilter

(

 onAutoSaveDelete 

)


 
init

(

)
Our file server was of course fixed soon after I had deployed this hotfix. But I have left it in our pipeline since then because it solves another autosave problem: bogus autosaves created by other users.
Whenever someone else opens your script without saving (maybe a supervisor or just another artist who needs to borrow part of your setup) he'll leave behind an autosave. These files are potentially dangerous. Nuke will ask you to restore from this autosave but what if it contains changes that mess with your script or even break it? The guy who previously opened your comp didn't mean any harm and he didn't save his changes. But now you've restored his autosave and by subsequently hitting "save" you might have damaged your script permanently.
The hotfix I have shown above will divert all autosaves to local machines. So when you open a script, Nuke will never find an autosave that somebody else has created or left behind.
A while ago I've blogged about the planar tracking features of Syntheyes and I've finally made some updates to the Fusion exporter to support them. In addition to that, I've played around with the Python support in Syntheyes and I've written a script that can create and update (!) a comp in a running Fusion instance. This saves you a lot of hassle if you have tweaked a matchmove or added trackers to a point cloud but you don't want to export a composition from scratch!
The package consists of three scripts: an advanced exporter for Syntheyes, a Python script for Syntheyes that is able to create and update tools from a matchmove (camera, point cloud, planar trackers) and a small tool script for Fusion that sets up a Syntheyes project from a selected Loader. Syntheyes Pro 2013.11 or later required for the Python scripts. Readme included.
The Fusion6 exporter is based on the Fusion5 script that ships with Syntheyes and has been updated in many ways:
support for stereo camera pairs
support for planar trackers (with or without planar export preparation script)
work area (timeline) options as in AfterEffects exporter
Create locked cameras to prevent their accidental modifications
Added project info to comp's comments tab and footage name to camera's comments
various fixes like paths and obj meshes
convert paths to a Windows format when running Syntheyes on Mac/Linux