Corridor Digital have done it again: Awesome dubstep video – slash – VFX demo. And it's got KITTENS!
AFAIK they're still doing it all with AfterEffects. But camera angles of life action and green screen plates and lighting demonstrate that they're really putting in a lot of thoughts into their videos before they start shooting.
That's better than what I usually have to handle on German mainstream movies where directors and DOPs are stuck in the 90's when it comes to pre-production planning of VFX ("Storyboards? Animatics? Blocking? Nah, we'll just roll the camera in any way we like and you guys will figure it out later. It's greenscreen after all, I could do it on my Avid! Hey, why doesn't it look like Harry Potter? Sure we've only paid you 1% of its budget, but that movie was like a decade ago.")
I really would have wanted to end 2012 with a nice movie-going experience. I tried to ignore people lamenting about 48fps or stuff that wasn't part of the book. I had never read the book.
Before the movie started there was a trailer for the new World of Warcraft update called "Mists of Pandaria". And it had Kung-Fu-Pandas in it, fighting orcs. It was the most ridiculous thing I had seen in recent months. Little did I know that this was foreshadowing the movie I was about to watch.
'The Hobbit – An Unexpected Journey' is basically the same thing but roughly 3 hours longer. It's an attempt to blow up a tiny story to not only 9 hours but to Lord of the Rings epic-ness while making it look like a video game cinematic. The term cinematic is actually quite ironic. While video games have tried to look more and more like movies (by their themes, camera angles, animated or life action cut scenes and the use of machinima) it seems like the future of blockbuster movies is to look more and more like video games:
Level 1 is the Shire. Go on a journey, battle some foes, meet some allies… until you reach Level 6 – The Goblin Cave! Press A to swing your sword and B for a special move to decapitate your enemies. The Level Boss is the Goblin King himself! Attack his vulnerable spot and when your energy level drops low, press Up-Down-Up-Down to make Gandalf appear and save your ass.
Sorry, Bilbo, the princess is in another castle. Stay tuned for parts 2 and 3 – available next year.
For a movie essentially geared at a young audience who might not even have seen LoTR the movie is an astonishing mix of childish themes, brutal (yet blood-less) hacking and slashing and dialog scenes that drag on for way too long.
The movie's first 15 minutes are filled with shots of dwarfs eating cheese, juggling plates and two musical numbers.
After two thirds of the movie I had to accept that nobody's going to get injured or die even after falling downhill for hundreds of meters. I accepted that one of the dwarfs and the goblin king looked like "Fat Bastard" from Austin Powers. I was no longer surprised when Gandalf just showed up and saved everybody at the last moment using his magic powers again and again – this happened at least three times during the movie.
And the HFR thing?
For a movie that is so intend on selling an experience and showcasing new technology (instead of, you know, making you feel sympathy for fictional characters on screen) "The Hobbit" actually tries hard to make you loathe it. The high frame rate irritated me every other minute with its "sped up" effect that you might have heard about. It's an optical illusion and my fellow movie-goers didn't notice it but to me it felt like watching a TV documentary about the movie, not the movie itself.
The 3D felt forced as well. I might be from a dying generation of movie-goers but it still irritates me when there are elements in front of the screen while being cropped at the edges. Fast-moving sparks, butterflies or gold coins still are a flickery mess to me even at 48fps. And landscape shots still have that miniature look to them because directors and DOPs insist on using an exaggerated interocular distance.
In a way it's comforting to know that even huge productions like this suffer from that shit that James Cameron successfully avoided in Avatar. But that's probably because one disappointed moron in the target audience of 16 year-olds ("omg the 3D was non-existing I could have left my glasses off") weighs heavier to any producer than somebody who is pulled out of the movie by miniature landscapes.
All of this overshadows the fact that the VFX are of course top notch. Except for one or two scenes you never think about the fact that Gandalf and the dwarfs are composited together for their difference in size. Closeups of wargs and eagles are great and the level of detail in the dwarf city or goblin lair is breathtaking.
In hindsight I should have watched the 24fps 2D version to apprechiate all of this.
6/10
"Damn Damn Good:" Movie Bob's positive review of "The Hobbit"
"I hope the worst is behind us": Red Letter Media's more negative review of "The Hobbit"
Ich bin großer Fan von Joscha Sauer's Webcomic "Nichtlustig". Fast zu spät habe ich jetzt erst mitbekommen, dass er ein Crowd-Funding-Projekt laufen hat, um eine Pilotepisode für's Fernsehen zu produzieren. Die ersten 10 Minuten sind schon fertig und über 8000 Leute haben sich bereits beteiligt:
Joscha's Finanzierungsaktion läuft noch bis zum Jahresende und jeder Spender bekommt auch was zurück, wie's beim crowd-funding üblich ist. Angefangen von der 1. Folge als Download für 1€ bis zum Co-Produzentenlevel.
Da es ja eh zu wenig Trickfilm-Experimente im deutschen Fernsehen gibt habe ich ihn gleich mal mit 25€ unterstützt. Bin gespannt auf die exklusive DVD mit Audiokommentar 🙂
HO – LY – SHIT. That one looks like it's gonna be fun 🙂
Or… it could suck like all the other movies of that genre that try to re-invent fairy tale characters in a world tainted by the Twilight saga ("Red Riding Hood" comes to mind but also "Van Helsing" although it predated this decade's vampire craze). But at least "Hansel & Gretel" looks like it's going to be honest: no hollow claims of answering questions about the origin of life ("Prometheus") or re-inventing time travel ("Looper").
Just "this is what Hansel & Gretel would look like in a steam-punk movie for teenage boys. Hell yeah!" *
Who knows if it's gonna be good. Maybe it's witty like "Brothers Grimm", maybe it's trashy like "Underworld" or "Resident Evil". But with stills like these, it's definitely on my watchlist even though this mentality has led to disappointment most of the time 🙂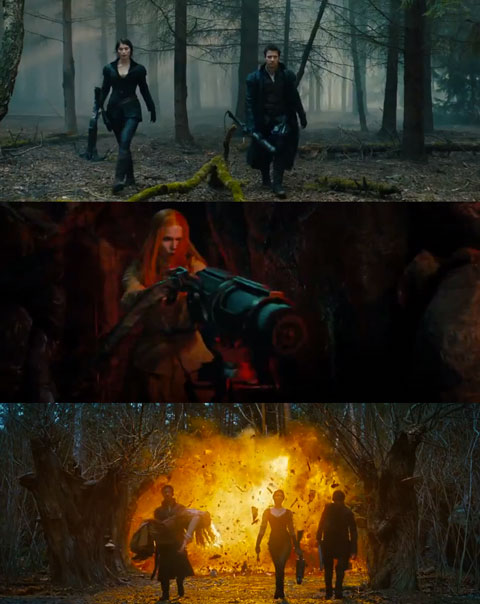 The VFX look much much better than in Resident Evil though. That hero shot at the bottom looks really well done. Light is engulfing the actors quite nicely and although a real explosion would be even brighter the actors are underexposed enough to sell the shot.
Compare this to a shot from the Resident Evil trailer I've criticized in the past where the integration of explosion and environment is abysmal.
For people who are not so much aware of what constitutes effects shots nowadays (and why movies get more expensive all the time…): I'm pretty sure the fog in the topmost screenshot was added later on in postproduction. Even if there was such a forest with the right kind of humidity at the right time of day to produce a suitable fog, no sane producer would allow a shot of the main actors to be restricted by such unreliable weather conditions. Doing the fog in post also allows the director creative freedom to add details like those godrays. All it takes is a matchmoving artist, a bunch of roto slaves and a 4-digit amount of dollars. If the director requests half a dozen versions until he's satisfied with the color and density of the fog, the VFX company probably won't break even. That's the state of the industry.
*) yeah, I'm using the term "steam-punk" loosely. But any movie that mixes gatling guns with 18th century German timber-frame construction qualifies as steam-punk to me.
Eine wahnsinnig interessante Dokumentation über amerikanische TV-Serien läuft auf ARTE und ist dort auch im Internet zu bewundern. Die erste Folge von "Amerika im Wohnzimmer" handelt vom Mann im Haus: von den unrealistisch harmonischen Familienvätern in den 50ern bis zum heutigen Mann, dem sein klassisches Rollenbild abhanden gekommen ist (und der zeitweise eher als hilfloser Trottel agiert, siehe Simpsons oder Modern Family). Das moderne TV-Serienformat gibt dabei Schauspielern und Drehbuchautoren die Möglichkeit, tiefgründiger als Kinofilme zu sein bei der Frage, wie Männer mit ihrem Kontrollverlust umgehen (Breaking Bad, Sopranos).
Eine tolle Doku. Mir gefällt auch das Grading der Interview-Szenen vor der Milchglasscheibe. Zu Wort kommen Leute wie David Lynch, Roseanne sowie diverse Drehbuchautoren und Produzenten. Sie werfen unter anderem die Frage auf, ob die TV-Serien den Zeitgeist widerspiegeln oder ihn mitbestimmen.
Und unweigerlich frage ich mich, ob es überhaupt in Deutschland so eine Doku geben könnte über grandiose Serienformate, bei denen man überhaupt über Geschlechterrollen und Bedeutung für den gesellschaftlichen Zeitgeist diskutieren könnte. Ich meine, was haben wir denn schon? Daily Soaps und Tatort?
Hat mir neulich ein Kollege gezeigt:
Großartiges Buzzword-Bingo aus der VFX-Branche 🙂
Über Film-Reviews zu "The Last Airbender" bin ich auf Racebending.com gestoßen. Die Seite betrachtet die Darstellung von ethnischen Minderheiten in Hollywoodfilmen, insbesondere die Tatsache, dass allzu oft westliche, weiße Hollywoodstars in Rollen gecastet werden, die eigentlich mit einem Asiaten besetzt werden müssten.
Ich muss zugeben, als Mitglied der "weißen männlichen Mehrheit" ist das eine Problematik, auf die ich von alleine nicht gekommen wäre. Und gleich mal vorweg: über Rassismus im Hollywoodfilm gibt's bestimmt massenhaft Studien und Diplomarbeiten, so dass ich erst recht nicht in einem kleinen Blogeintrag ein ausgewogenes und umfassendes Urteil fällen kann… aber die ganze Racebending-Seite ist interessanter Lesestoff.
Es ist ja kein Geheimnis, dass Rassismus in Mainstream-Filmen existiert und dass das Kino die Kultur seiner Zeit widerspiegelt als auch beeinflusst. Nur dachte ich dabei bislang nur an die Bösewichte, die in den Action-Filmen der 80er halt Russen waren, und jetzt Araber. Vielleicht wäre ich noch auf die Darstellung des Japanischen Nachbarn im Klassiker "Breakfast at Tiffany's" gekommen. Das ist so 'offensive' für heutige Verhältnisse, dass man sich fragt wie Amerika damals wohl tickte, wenn kurz nachdem man japanische Immigranten im 2. Weltkrieg in Internierungslager steckte in einer unverfänglichen Romanze derartige Zerrbilder dargestellt werden. Und der Nachbar wurde – das war mir bislang nicht bewusst – nichtmal von nem Asiaten gespielt! Aber das war früher. Heute ist das ja nicht mehr so, oder?
Liest man sich bei Racebending.com mehr ein, so wird deutlich wie sehr das Hollywoodkino immernoch auf weiße Hauptrollen setzt und farbige Schauspieler mit Klischee-Nebenrollen beglückt.
Verarsche zum geplanten Hollywood-Akira-Remake, das wohl mit weißen Schauspielern besetzt werden wird.
Nun mag man einwenden, dass dem halt so wäre, schließlich ist Hollywood = USA = Der Westen (TM). Aber hat das Kino (ein kommerzielles Produkt wohlgemerkt, kein sozialistisches Konstrukt) denn überhaupt den Auftrag, die Rassen gemäß ihren realen Prozentanteilen an der Bevölkerung darzustellen? Ist es nicht der Kinozuschauer, der ständig mit dem Geldbeutel wählt, und dem das anscheinend egal ist? Ist nicht der amerikanische Zuschauer die primäre Zielgruppe, und will er nicht sogar mit Vorliebe eigene weiße Stars anbeten? In Bollywoodfilmen spielen bestimmt auch Inder alle Nationalitäten.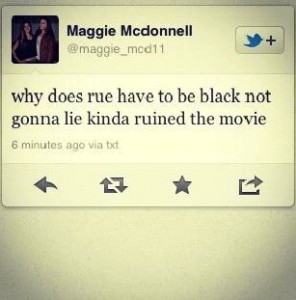 Und man könnte sagen: Als Deutscher ist man doch auch gewohnt dass man in Filmen wahlweise als Nazi oder als Biertrinker dargestellt wird. Asiaten kriegen halt nur Rollen als Kung-Fu-Sidekick. Get over it.
Gibt es nicht wichtigere Dinge, z.B. realen Rassismus, wo tatsächlich jemand einer Bevölkerungsgruppe schaden möchte? Man denke an die "Hunger Games"-Fans, die außer sich waren, dass eine Schauspielerin schwarz war? (getreu der Romanvorlage, wohlgemerkt)
Oder nimmt man das Problem auf diese Weise zu lässig?
Schwierige Frage, wenn man eben erst auf das Thema aufmerksam wurde. Früher haben Männer sogar Frauenrollen im Theater gespielt – und die Gesellschaft fand keinen Anstoß daran. Heute wirkt das verquer. Legt Racebending.com den Finger in ein reales – wenn auch von den meisten Weißen wohl nie beachtetes – Rassismus-Problem unserer heutigen Gesellschaft, das zu beheben genauso wichtig ist wie es mal war, das Frauenwahlrecht einzuführen?
Auf jeden Fall würde ich den Leuten hinter Racebending.com nicht sagen, sie sollen mal nicht so empfindlich sein. Ich finde, die Vorwürfe haben durchaus Hand und Fuß.
Den Machern von Racebending.com geht's ja bestimmt nicht darum, dass es schlimm sei, wenn es Hollywood-Remakes von asiatischen Filmen gibt, in denen nur Weiße mitspielen. Solange die Story halt ebenso komplett in den Westen transferiert wird (siehe "The Departed").
Ihnen liegt vermutlich eher am Herzen, dass man über die Vorurteile nachdenkt, die Hollywood im Jahre 2012 perpetuiert und den Aufwand, den man betreibt, um selbst asiatische Hauptrollen mit Weißen zu besetzen. Ich meine, für "Cloud Atlas" hat sich Hugo Weaving Schlitzaugen machen lassen. Das ist eigentlich schon 'ne derbe Nummer. Wenn er sich schwarz schminken würde, um statt Forest Whitaker in "Last King of Scotland" zu spielen? Undenkbar, oder?
Anmerkung, nachdem ich Cloud Atlas gesehen habe: Der Film ist fantastisch, und es hat einen guten Grund, dass Weaving einen Asiaten spielt, genauso wie alle anderen Schauspieler multiple Rollen mit unterschiedlichen Rassen und Geschlechtern spielen. Dem Film Rassismus vorzuwerfen ist sowas von blödsinnig, dass man sich an den Kopf fassen muss.
Und wie ist das ganze in Deutschland? Werden hier nicht auch Türken im Kino und TV unterrepräsentiert und dürfen nur Gemüseläden besitzen während Russen im Tatort immer Zuhälter sind?
Food for thought.
PS: Hier ein Artikel, der sich über "whitewashing" von Filmrollen mokiert.